JYJ, la historia de los 1000 días
Kim Junsu,
El telón se levanta para "Tears of Heaven"
A finales del 2010, cuando el representante Baek Chang-Ju le propuso participar en un musical original, "Tears of Heaven", Kim Junsu estuvo muy sorprendido. Aunque había actores y actrices con mucha experiencia, dudó acerca de estar en un musical original. El representante le preguntó. ¿Qué hay de devolver el amor y la popularidad que recibiste durante el musical "Mozart"?
Al recordar el diálogo de ese momento, Kim Junsu se echó a reír. "Es más fácil decirlo que hacerlo. Haha! Soy quién realiza el musical. ¿Regresando el amor? Realmente esperaba hacerlo. Sin embargo, soy quién actúa en el escenario. Oh, ¡Dios mío, es un musical original!" Al principio me reí, pero no he podido olvidar las palabras. "Vamos a devolver el amor que recibiste".
Así que no podía seguir riendo. En un momento difícil después de una larga consideración él eligió "Mozart". Y fue un éxito. El siguiente fue "Tears of Heaven". Fue la primera obra que escogió para regresar el amor a las fans.
El estreno del musical, siendo un libro de la obra musical.
Primero que todo, él escuchó las canciones de "Tears of Heaven". Había excelente música compuesta por Frank Wildhorn, que hizo canciones para "Jekyll & Hyde". Las destacadas canciones conmovieron el corazón de Kim Junsu. En particular, una canción "Can you hear me?" se mantuvo resonando en sus oídos.
"Si bien realicé 'Tears of Heaven' no creo gané opiniones muy positivas de la comunidad musical, es la primera vez de llevar a cabo ese musical, así que es posible que las canciones que yo canté y actué sean plasmadas en un libro, esto me dio un sentido de responsabilidad y esperanza al mismo tiempo".
Kim Junsu decidió hacer un nuevo reto. Fue una oportunidad para que él dejara sus huellas en "Tears of Heaven". Sin embargo, nada es fácil en el mundo. A diferencia de "Mozart", había un montón de pruebas y errores mientras se prepara "Tears of Heaven", hasta el día de la inauguración. Las palabras, "La primera vez en el mundo", condujeron a la tensión. "Durante los ensayos muchas cosas cambiaban. El día de la función, me pidieron que vaya antes así que fui allí y me di cuenta que las letras de las canciones fueron cambiadas. Incluso la escena final estaba siendo cambiada continuamente durante la interpretación. (Risas). Estábamos en constantes experimentos".
Mientras él rápidamente se adaptaba a las situaciones cambiantes, poco a poco tenía más confianza durante el musical. Su capacidad de actuación e improvisación se mantenían mejorando. En el escenario incluso tuvo una experiencia durante su presentación, tuvo que improvisar durante un tiempo de 5 minutos. Más experiencia, más habilidad mejorada. En febrero, él consiguió estar en el escenario del teatro nacional y aquellos que mostraron las primeras respuestas fueron los actores/actrices del musical. "Cuando los que vieron mi actuación me dijeron que "Tears of Heaven" era totalmente diferente al musical existente, sentí que recibí el mejor elogio" dijo Kim Junsu.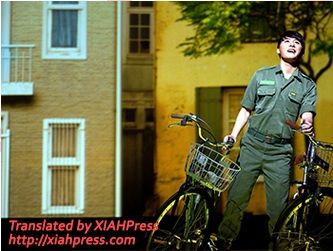 Su poder de venta, conmocionó a la comunidad musical.
Su poder de venta de entradas siguió siendo abrumador durante "Tears of Heaven". Se realizaron 3 ventas de entradas, 1era: 10.000 entradas que se agotaron en 5 minutos, 2da: 13.000 entradas en 3 minutos y 30 segundos y la 3era: 4.500 en 2 minutos y 30 segundos. El récord sólo fue posible porque era Kim Junsu.
La productora de "Tears of Heaven", estuvo sorprendida por el gran éxito que fue más allá de sus expectativas. Consiguieron un teatro más amplio y vendieron las entradas, pero aún después de 3 ventas todavía quedaban 30.000 personas que esperaban conseguir entradas adicionales. Al final, se vendieron 3.000 entradas más gracias a que Kim Junsu amplió sus funciones. Y estas entradas fueron agotadas también en solo un minuto. Nadie puede igualar a Kim Junsu cuando se trata de vender entradas.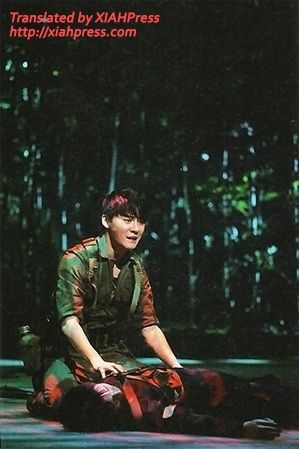 Ya que su competencia mejoró y su éxito musical ganó, llegó a recibir una estricta evaluación. Había muchas estrictas evaluaciones en su segundo desafío tras el éxito de Mozart. La cosa más difícil para Kim Junsu fue soportar que estaba siendo comparado con el actor principal Cho Seung-Woo (Él es uno de los actores más populares y famosos en Corea. Ganó muchos premios con sus musicales, películas y actuaciones. Ganó el Gran Premio en MBC en los premios de actuación). "Yo odiaba terriblemente que me comparen con él y fue muy traumático para mí", dijo Kim Junsu
"Seung-Woo hyung es un actor veterano en los musicales, así que no puedo entender cómo es que me comparan con él. Dada la circunstancia de que a muchos fans de los musicales no les gustan los idols, puedo imaginar que me lleguen mucho. Ahhuuu!".
Era difícil para él cuando recibió preguntas comparándolo con Cho Seung-Woo dondequiera que él iba. En todos los casos, sólo respondió: "Yo responderé con sinceridad en mi actuación en el musical a partir de ahora".
Él siguió su camino en el escenario con una fuerte voluntad y los medios de comunicación se centraban en la capacidad de Kim Junsu. Fueron los medios de comunicación que primero hicieron una evaluación que, aunque era un musical original que se toca en el mundo, "Tears of Heaven" fue capaz de alcanzar el éxito absoluto por la influencia de Kim Junsu. En ese momento, los medios de comunicación comentaron sobre el factor de éxito de "Tears of Heaven", diciendo: "Es extraño si este musical en el que Kim Junsu aparece no es exitoso. La sensibilidad de Kim Junsu es el punto culminante de la obra musical" y "Su encantador desempeño emocional es excepcional".
Sin embargo, aparte de los cumplidos de los medios de comunicación; Kim Junsu está muy agradecido por esta obra musical traída a él.
"Durante "Tears of Heaven" aprendí más sobre los musicales. Ya que era original, hubo muchos ensayos y errores, pero esas experiencias me hicieron tener una visión más amplia. Llegué a comprender todas las partes de los musicales al detalle incluyendo la dirección, la música, y el escenario. Estos fueron muy útiles para mí como actor. Por lo tanto, creo que fue una buena elección esta obra musical. Fue mi primer papel melodramático, y realmente quedó bien con el género musical. La historia de amor del hombre y de la mujer, expresada en líneas y canciones. Durante "Tears of Heaven" estuve inmerso en una historia de amor desgarradora. Derramé muchas lágrimas. Yoochun también lloró cuando fue a verlo".
Crédito: XIAHPRESS
Traducido al español y compartido por: Alilu408 de
JYJTres